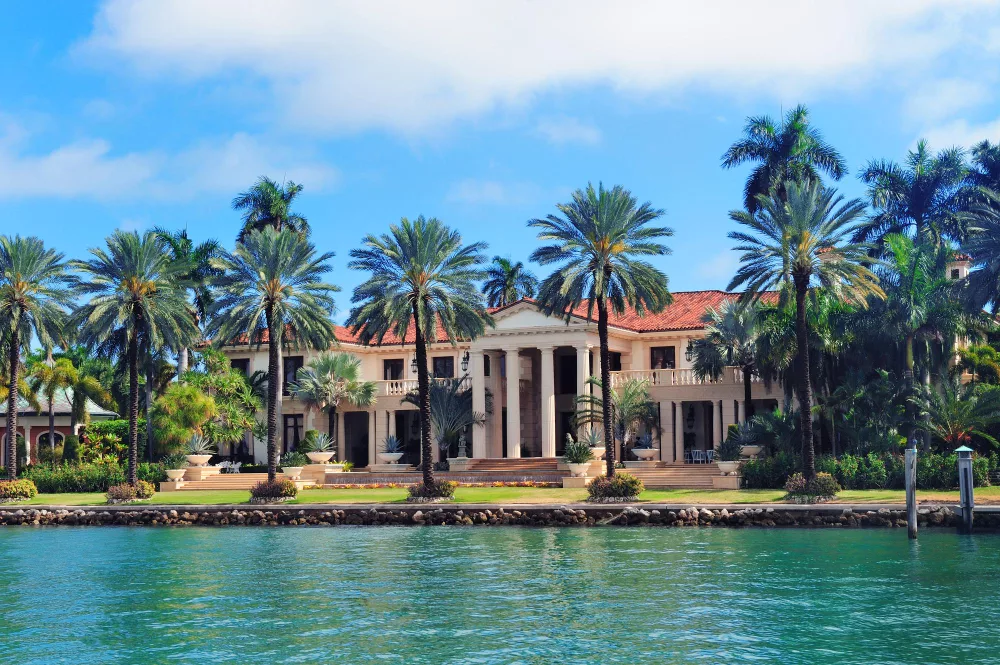 Inspiring Story Behind Oprah and Her $80 Million Mansion. Oprah is one of the most famous and successful public figures ever. Despite her regular media presence, her personal and home life has been mostly kept from the public eye.
Until now.
Here's a photo of her California property only one of her many homes. We know she values her privacy, so there are very few stories about the number of its rooms, decorations, or general architecture. From what journalists have managed to get, let's take a look at the huge home of one of the most successful women ever.
Television Queen
So, we're going to assume that you know who Oprah Winfrey is. This television star and public figure is not just one of the most recognizable people in media she is one of the most influential people on Earth.
It's assumed that her career, which has spanned five decades, has helped her acquire more than $3 billion. Naturally, it makes us wonder: how does someone with that kind of money wealth live? What do Oprah's house and private quarters look like? Well, let's see where the house is, then take a look inside…
Gorgeous Getaways
Well, it's no surprise that Oprah's mansion, which also serves as her main residence, is located in one of the richest communities in the United States. The affluent community of Montecito is found just East of the Southern California city of Santa Barbara.
We dug around and saw current listings in Montecito running for anything from $1 million up to $85 million. Even Santa Barbara's tourism site warns visitors not to be surprised if they stumble into a celebrity in the streets. Let's see how Oprah ended up in this amazing part of the world…
A Random Encounter
Oprah's fortune comes as the ideal culmination of her intelligence, charisma, determination, and solid career choices. When she first arrived in Montecito, she hadn't yet found what would eventually become the home of her dreams.
That opportunity finally came in 2001 and it was a complete coincidence. As fate would have it, Oprah was asked to attend a party in Montecito that took place on the grounds of an amazing mansion. As she admired the scope of the property, she was utterly amazed by its beauty. The owners couldn't believe what would happen next…
The Offer
Oprah quickly knew she had to have the mansion for herself. When she was at the party, it belonged to Robert Veloz, an aeronautical equipment manufacturing giant. Back then, he and his wife were residing in the stone gatehouse, measuring 2,000 square feet. Sadly, the house was not up for sale.
But that was not going to stop her from achieving her dream! Oprah was prepared to keep fighting. She offered the owners a check for a massive $52 million. After the purchase, she had executed one of the biggest sales of a private home in the entire country. How old is this building and where is it exactly located?
The New Home
The Montecito estate was first built in 1912, though the grounds have had various changes and renovations over time. The entire property covers roughly 23,000 square feet. Looking from the grounds, visitors can enjoy amazing views of the Santa Ynez Mountains and also the Pacific Ocean.
Today, the mansion we can see was completed in 1959 and is worth roughly $88 million. It includes a total of 14 bathrooms, 6 bedrooms, and 10 individual fireplaces. The home offers a collection of additional rooms, as well as everything from a wine cellar to a home theater. Soon, it would soon be hers. But first: she'd have to go to great lengths to add her personal touch.
It Finally Belongs To Oprah
Bob Veloz and his wife both agreed to accept Oprah's proposal and subsequently sold their home to her. The Montecito mansion was now hers! It was an unbelievable moment to take it all in. Now, she had to imagine how she would take this property and make it more her own.
Firstly, Oprah's new home needed a name. As Oprah walked along the amazing grounds of her new home with her friend Bob Greene, a fitness guru, she told him about her idea for a name: Tara II. Oprah said it reminded her of Gone With The Wind – but Bob objected strongly. What happened next?
Let's Keep Perspective
Bob Greene felt that Tara II couldn't match up to this incredible property. But being from the American South, he reminded Oprah to put things in perspective. The idea that an African American woman (who was born into poverty in Mississippi) was now able to buy and own all this marked a humbling moment.
Oprah has never been shy about explaining the hard times in her life before becoming a famous host. She was born to a single mother and raised by her grandmother in Mississippi during Jim Crow. She recalls how her family was so poor that she had to wear potato sacks for dresses. But look at where she was now! Here's our view inside…
Looking For Inspiration
Bob Greene was deciding about a potential name for Oprah's home. Suddenly, in a moment of revelation, he knew she should go to the Bible and reflect from the Holy Book. He called the magnificent residence the 'Promised Land,' and the name immediately stuck with her. This was to be the identity for her new house.
So now she had her dream home, but she had to decorate it still. It was time for a large project: going through the rooms and personalizing them to her liking. For starters, there's the library shown above, full with an extensive book collection made by a champion of literature. What does the foyer look like?
Fantastic Foyer
Here we can see the main entrance hall of Oprah's home. A rich, extravagant banister wraps along the sides of her white staircase. As you can see, it curves up past these yellow walls. But despite her amazing eye for art and her selection of furniture, one thing stands out more than the rest.
The entryway to Oprah's mansion is full of framed photographs of friends and family all placed on the tables. These are items that can usually be found in just about anyone's home. However, this reminds us that despite her unbelievable status and wealth, she's still human. Let's take a look at her own 'Reading Room'…
The Reading Room
Where do you go once you pick up a book from the library? This is Oprah's "Reading Room," in case you didn't know that such a thing even existed. It's the room she goes to just to read. Can you imagine that?
Of course, we know that reading is one of Oprah's favorite pastimes. So, it makes sense that she would have a room dedicated only to reading. She has her books organized so perfectly that we question if she did it herself. Now let's journey to the dining room, where she eats her meals…
The Dining Room
Opposite her kitchen rests the dining room. We and her guests are instantly struck by the coloring of the table and by how impressive it looks. In total, the dining table fits ten people, and it has room for two featured candelabras that rest offset the table.
You don't see it right away, but the rug underneath the dining table complements it incredibly subtly. We can see it has a slightly faded quality to it – but knowing Oprah, this was probably deliberate. Next up: look at this massive bathtub!
Swimming In The Bath
Next up is her amazing bathroom, which as you can see is pretty amazing. When you get excited about a bathroom, you know it's got to be good! This is one of the best bathrooms we've ever seen…
Oprah actually has a pretty interesting story about some of the bathrooms in her early days. She claims that her family used to share one single bathtub when she was a child. We can see it makes sense that she'd want to spend some serious cash for a beautiful bathroom to make up for it. Now for a look at her closet!
Colored Closets
Sure, it's a stereotype that all women love big wardrobes – but this one is true! We can see here how covered her wardrobe is with shoes, shirts, pants, and dresses. Better yet, they're all color coordinated to perfectly blend together.
What would you do if you had a closet like this? We can imagine spending hours each morning deciding what to wear. Oprah probably has someone to help her each day. What would you wear from this collection of clothes?
Tea For A House Full Of People
When you're Oprah, money doesn't mean much. Here, we can see how she spend millions of dollars buying the house next door to turn it into her very own tea house. Originally, this was used for people to grow and arrange flowers. But when she bought 'Promised Land', Oprah decided to turn it into a tea house.
Every so often, Oprah makes tea in this part of her property and shares it with friends and family. If you had your own extension in the house, what would you use it for? Now for a cheeky look inside…
Summer Chilling
As we take a look inside the tea house, we see that this is definitely a good spot for summer afternoons with friends. Oprah has said that she comes to this spot to meditate, read, and of course – sip on a cup of tea.
Interestingly, there are no televisions or digital devices in this part of the tea house. We love how it adds to its serene vibe. It looks as if it is the perfect place to block out all the noise when things get too wild. You're going to want to 'check' this next room out…
'Check' This Out
Ok, we have a feeling that Oprah enjoys checks. If we're being honest, we think this room gives off a different vibe compared to the rest of the rooms in Oprah's home. What do you think?
We all have our own particular tastes and styles, and we admire Oprah for her choices here. The cushions blend into the walls, which are contrasted by a solid gold frame. You can buy a lot of things with millions of dollars. It appears taste isn't one of them. One last look indoors tops the rest as her most stylish room…
Sit Back And Relax
If horseriding and teamaking aren't your things, Oprah can always invite you to relax in her living room on the ground floor. This is definitely more our kind of place to sit back and get cozy! We would be very happy with our cup of tea and book here, thank you very much.
It has a more modern, but also traditional, feel to it. As you can see, there isn't actually a TV in this room. Perhaps Oprah really doesn't like to watch television at home. Makes sense, she's on it all day long! Now let's see where she keeps her many animals…
Horses and Stables
Every house needs space for your horse and carriage, right? Maybe not. Well, if you're Oprah and you have the financial ability to buy stuff like that, then go for it.
We didn't know that Oprah was such an admirer of horses. But hey, perhaps she wants her horse-loving visitors to feel welcome when they visit. It wouldn't be the first time she's been a gracious and caring host. Let's go inside and see where she cooks her meals…
Oprah Gets Chopping!
How do you prepare meals for the legend that is Oprah Winfrey? You would imagine that Oprah's mansion would have a well-stocked, spacious, and logically arranged kitchen. When Oprah moved into her home the 'Promised Land', this state-of-the-art kitchen had its own fireplace.
We agree that having a fireplace in your kitchen is pretty cool, but Oprah decided against it. She opted to have it taken out but not because she didn't like it. Oprah pointed out that when she has guests over, their natural feeling is to go straight into the kitchen. As she redesigned the house, she wanted the kitchen to have more space. Needless to say, the rooms in her home are hardly struggling to make room for people! What about a second house? Well, let's take a look…
A Second House?
If you're Oprah, you definitely have enough money in the bank for a whole other house. Well, don't worry, we also have a picture here for you to enjoy. While we've seen most of her $80 million house in California, she also has a property on Orcas Island, San Juan.
The San Juan islands are found just off the coast of Washington, USA, and can be purchased for 10% of the price. Still, that's $8 million! Now for a look inside the brand new property…
Wooden Wonder
Now inside, we can see just how different this property is to her primary one on the mainland. Generally, Oprah uses the Orcas Island property as a guest cottage, a Tea House, a woodworking studio, and a gym.
Outside of all those reasons to come and visit here, we really can see why she would want to visit. It's a cozy and modest change from her main home that has dozens of rooms. Perhaps she even Airbnbs this when it's vacant. Now let's see her Hawaiian House…
Wowwy in Maui
We're sure there are times when Oprah just wants to escape the madness of the mainland and enjoy some relaxing time. Well, lucky for her she has her very own home on an island in Hawaii. Located on the hills of Mount Haleakala, it has a charming porch that wraps around the entire house.
Can't you just imagine sitting on that porch and reading your book all day long? We can see why she would want to relax here. But when Oprah wanted a city break, she visited her house in THIS US city…
Chi-Town
Oprah used to have her own apartment in Water Tower, Chicago, when she was there filming The Oprah Winfrey Show. As the third biggest city in the country, Chicago certainly brings some talent to its doors.
Sadly for Chicagoians, it wasn't on Oprah's cards to stay there and she ultimately sold the property. It turns out that she would rather explore other, smaller places that have the same amount of charm. Instead, the chat show host uses THIS city to escape the winters…
Colorado Colors
It turns out that Oprah just couldn't resist the nature that Colorado had to offer! In 2014, she bought one of the most amazing homes in one of the most picturesque states in the country. Here we are in Telluride, Colorado.
Oprah chose this spectacular property that resides deep within the trees and surrounded by incredible mountains. We think it was a good decision on her part. Perhaps she's swapping her tea room for a hot chocolate cabin while she's here! She had a habit of doing this VERY special thing wherever she lived…
Biblical Trees
We already know that Oprah named her Montecito house the Promised Land. This is because of the impact religion had on her life and how it symbolized how far she had come in life. What's more, she also wanted to plant these trees. But how many?
Oprah planted 12 massive trees in her property, a symbolic number that represents the 12 apostles of the Bible. This way. Religious connotations can always be felt wherever she is. How does she feel about having to look after things in the garden? Well…
Oprah The Gardener
It turns out Oprah loves it! Many fans may not know about her love of gardening since they watch her in television studios all day. However, eager fans of the superstar will know how much she loves to plant and grow her veggies and plants.
This means that Oprah has a very special kind of gift for her close friends: fruit baskets! Each season, friends of the gardener can expect to receive a big basket of in-season fruits and vegetables. Yummy! But who are the neighbors in Montecito getting these gifts?
Welcome To Montecito.
As we've discussed in other parts, Montecito is one of the most affluent parts of America. Even The population in the region remains rather low, unlike the size of the citizen's wallets! Located within Santa Barbara, Montecito is full of restaurants, coastlines, and boutique stores.
This small town definitely has enough charm to attract celebrities from across the country. As well as Oprah, a new girl just joined the community there and is she on her way to being an even bigger star than Oprah?
New Neighbours!
Ellen DeGeneres is about to move to Montecito, joining the dozens of other celebrities who reside there. The comedy chat show host is about to move back with her wife, Portia de Rossi. However, it isn't the first time she's even lived there.
Ellen used to live in Montecito but left it briefly for a few years. We hear she's happy to be returning to the charming town and be closer to her old friends. Who else is living there?
It Drew Drew In
Charlie's Angel Drew Barrymore herself was also a resident of Montecito, California. The famous child-star-turned-sensation lived there all the way until 2003 when she sold the property for an impressive $7.5 million. Built in 1937, her home sat on two acres of land.
Sadly, she was never neighbors with Oprah since she left the area before the chat show host arrived. Can you imagine how annoyed you would be if you missed out on the chance of being neighbors with Oprah? She's not the only one who is leaving Montecito…
Whoa, Rob Lowe!
Maybe Oprah isn't such a good neighbor after all? The West Wing star and heartthrob recently put his 10,000 square foot property on the market for a massive $47 million. It's not the same price range as Oprah herself, but it's still a pretty penny!
It appears these two lived in the same neighborhood for a while. Let's hope they didn't have some form of falling out together. We would hate the idea of these two driving each other away! Still, Oprah has one good friend there…
'Ello, Ellen!
Well, it turns out that these two ladies will be living pretty darn close to each other! It turns out that Ellen bought the home right next door to Oprah. This means Ellen can expect to receive a fruit basket in the mail soon!
Perhaps these two will get together and drink tea in the tea house that sits in the middle of their property together. Considering these two have been friends for years, we can't wait or them to get reunited. These is the most Inspiring Story Behind Oprah and Her $80 Million Mansion.
VAAL Real Estate was Founded with the aim of reducing the hassle of finding and buying homes. VAAL Real Estate has been successful in developing a brand whose main aim is to change the market by understanding and satisfying the needs of potential and future home owners.