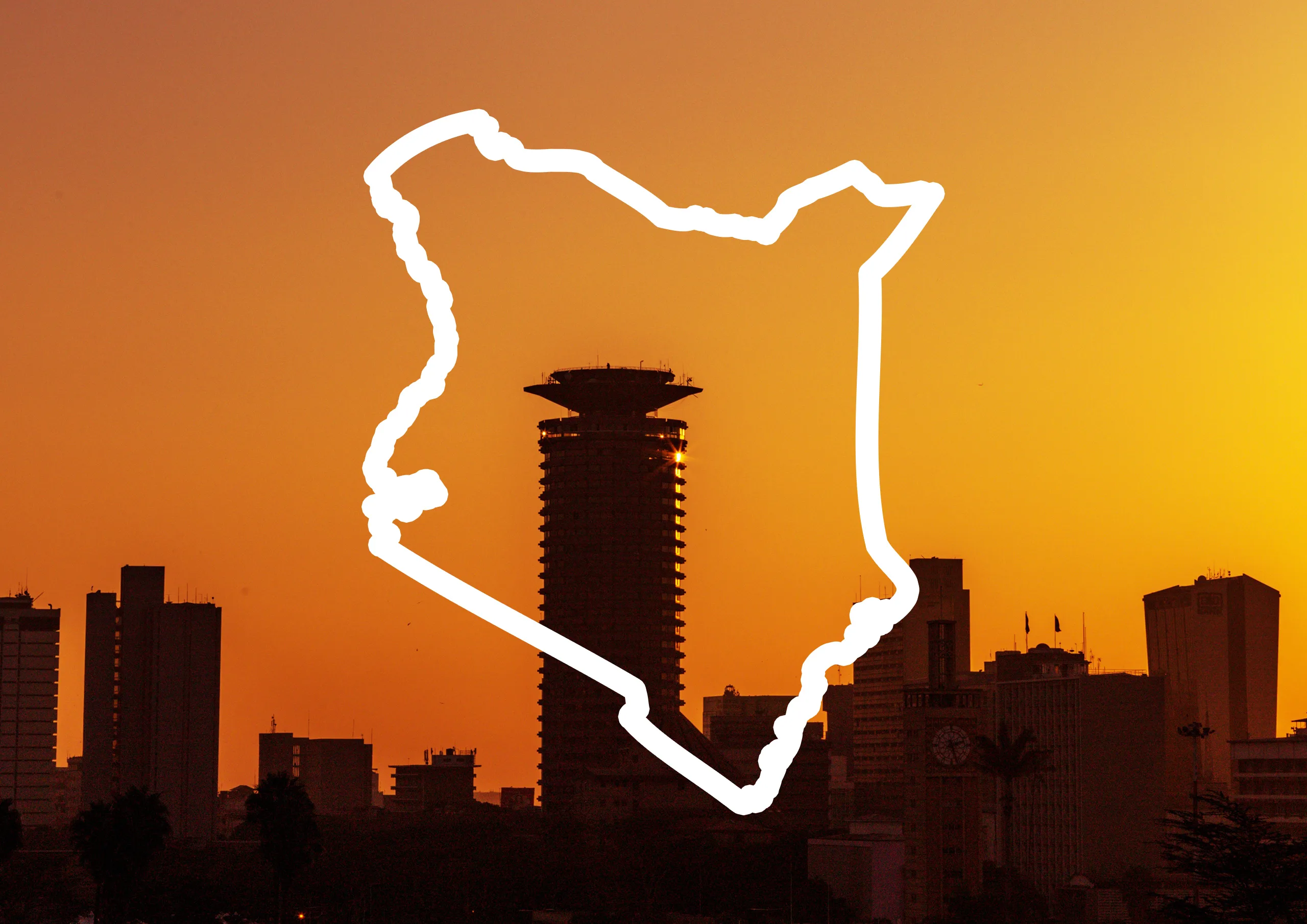 Why Kenya Is Among The Best Countries In Africa To Invest In. Located in the heart of the East African region, Kenya is a country where, any foreigner coming in, falls definitely in love with. Beautiful capital city, amazing safaris experience, fantastic climate, warmed and friendly people and so on. In addition to its magical attraction, Kenya has an oasis of opportunities, perfect for any investors. Here are five good reasons why Kenya is one of the best countries for foreign investment in Africa.
1. Strategic Geographical Location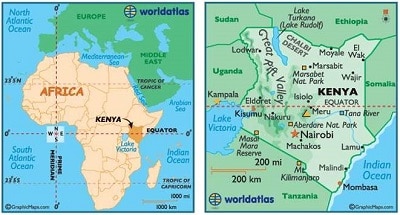 First of all, among East African countries, Kenya is the most strategically located. Because it provides easy access to the huge East African Community and the COMESA regional markets. Having a combined gross domestic product of about USD560 Billion, the COMESA constitutes an enormous market for investment. It has the highest rate of return on investment in the world. Additionally, with a coastline on the Indian Ocean, Kenya offers the most effective outlet to export markets in the African region, the Middle East, Europe, and Asia. That's why some of the most venerable multinational and well-known brands in the world including Google, Microsoft, IBM, Airtel, United Nations Africa (UN), Coca-Cola, and Visa have made Nairobi, Kenya their regional headquarters.
2. Why Invest In Kenya: Growing Economy
Source: ATLAS | Data African Development Bank Group
The East African region was driving the economy in Africa in 2016 according to the African Development Bank (AfDB). And for years, Kenya's Gross Domestic Product (GDP) keeps improving. AfDB also reported that Kenya's real GDP growth was 5.3% in 2014. While the 2015 estimate and the 2016 and 2017 projections show economic expansion of 5.5%, 6.0%, and 6.4% respectively. Through its diversified and established economy with strong business sectors, Kenya remains one of the best countries to invest in Africa.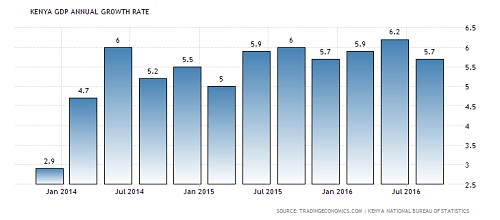 Source: Trading Economy | Kenya National Bureau Of Statistics
The impressive growth has received considerable interest from foreign investors. Another recent forecast by the International Monetary Fund indicates the country's gross domestic product will jump from $62.7 billion in 2015 to $104 billion in 2019, placing it among the top 10 fastest-growing African economies.
3. The No1 Foreign Direct Investment Destination (FDI) In East Africa
A foreign direct investment (FDI) is an investment (in the form of controlling ownership) in a business in one country by an entity based in another country. In Africa, the East African region has the largest rate of FDI according to African Market. And Kenya leads the East African FDI in 2017. Recently the World Bank's Doing Business 2017 report, ranked Kenya 92nd out of 189 countries globally, a gain of 16 places compared to 2016. It was again identified as one of the top 10 reformers globally over the past year, measured by its movement up the global ranks.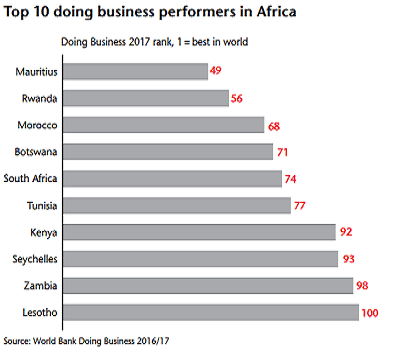 Additionally, Kenya is among the top 10 most attractive countries in term of investments. According to EY Africa Attractiveness Index 2017 country ranking which measures the "Africa Attractiveness Index" (AAI)
Morocco
Kenya
South Africa
Ghana
Tanzania
4. Kenya Leads The Largest Infrastructure Projects In The East African Region
According to the financial consultancy firm Deloitte, Kenya had the highest number of mega infrastructure projects in East Africa in 2016, maintaining its lead as the regional powerhouse. Here are some of them:
Kenya Standard Gauge Railway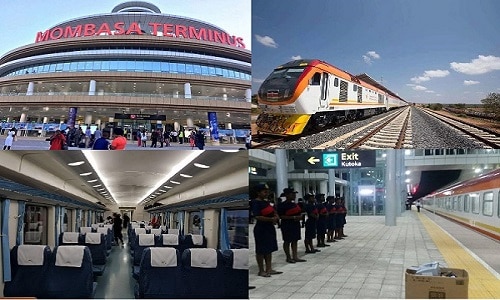 Photo: Kenya Railways Nairobi-Mombasa | Monicah Mwangi
The Railway project from Mombasa to Nairobi cost 3.8billion dollars according to railway technology.
Lamu Port Project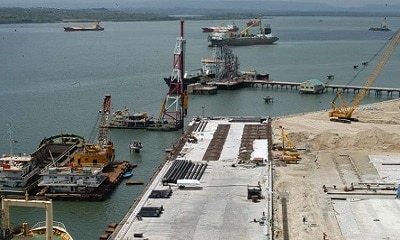 Photo: Lamu Port Project | LAPSSET
Lamu Port is part of the LAPSSET Project. With 32 Deep Sea Berths, the port construction estimated to cost 5 Billion dollars. While the wind project comprises of 365 wind turbines with a capacity of 850kW each of them.
Lake Turkana Wind Power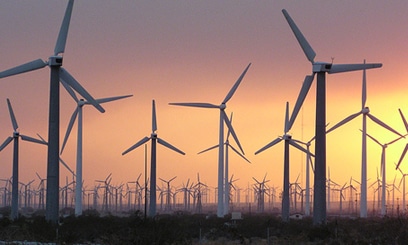 Photo: Lake Turkana Wind Power
5. Recognized Achievements The Last Five (5) Years
Here are some accomplishments, recognized by well-known financial institutions and brands in the world:
2013: Top destination for global investment (Venture Africa-Wall Street Journal)
2014: Africa's top 10 economy & East African largest economy (Forbes)
2015: Nairobi as the most attractive African city for FDI according to PWC
2016: Highest infrastructure projects in East Africa (Deloitte)
Africa's top FDI destination (CNBC Africa)
2017: Top 10 Africa Attractiveness Index (EY Africa Attractiveness Survey 2017)
To conclude, Kenya is the perfect place for any businessman looking for a worthy return on investment. Successful local businessmen like Chris Kirubi, James Mwangi, S. K Macharia and many others have made Kenya a home for their investments. Also, Kenya Investment Authority is willing to guide any investors interested to invest in the country.
VAAL Real Estate was founded with the aim of reducing the hassle of finding and buying homes. VAAL Real Estate has been successful in developing a brand whose main aim is to change the market by understanding and satisfying the needs of potential and future homeowners.